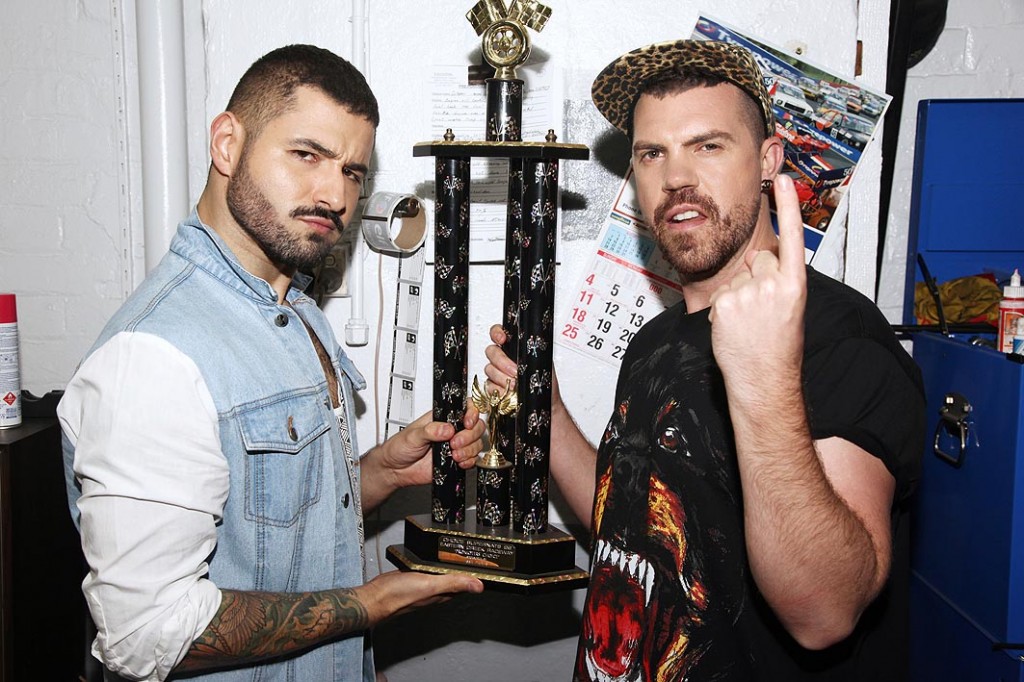 Don't you ever dare tell me I'm not keeping my promises! I gave you my word you'll read an interview with the dynamic fuzzy duo from Down Under and now I'm putting my words into action.
Fighitng for homo's attention and trying to battle opponents like Gaga and Madonna, Garçon Garçon seem to have the perfect solution – Right on the pulse of time and following trends of masculinity development, the music duo knows the perfect ingredients for producing a successful EP – smooth male vocals, 80?s sound, catchy rhythms, facial and chest hair.
Garçon Garçon are Nathan Mahon (Vocals/Guitar) and Nick Tsirimokos (Synths/Programming) an electro-pop duo from Kings Cross, Sydney. Combining new wave synths with a unique '80s feeel and a dash of blatant pop, Garçon Garçon write intelligent songs with catchy hooks.
Right before they joined the celebrations of Mardi Gras in Sydney, with a 10 hour difference between us, I had a chat with Nick and Nathan about their strategy to expand as a power pop duo, the future of the industry, and masculinity. Listen to their EP at the bottom of the article.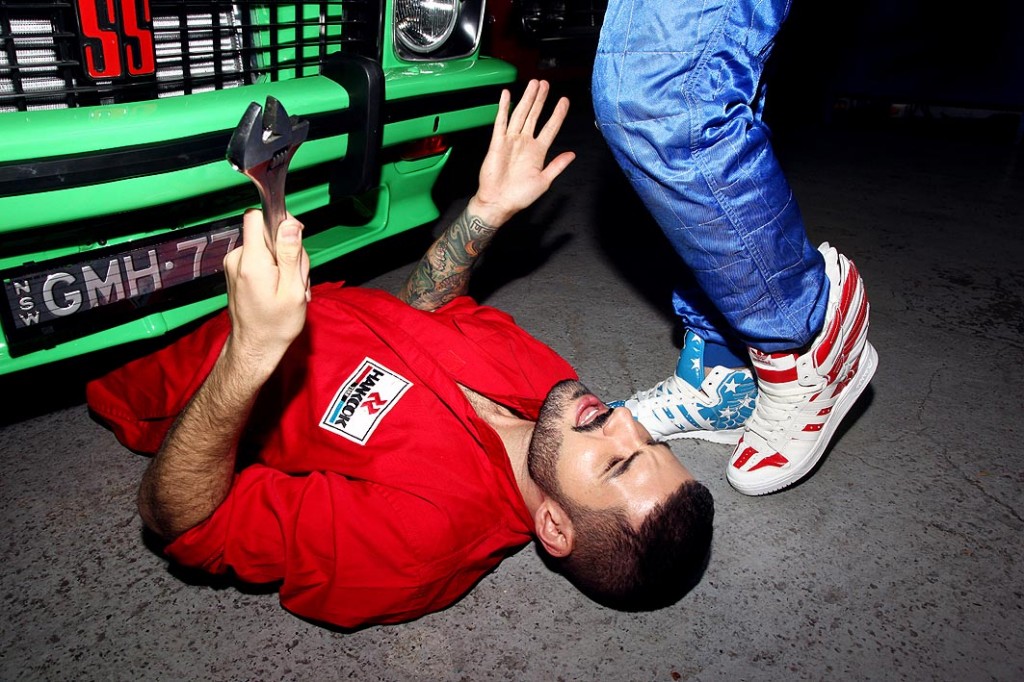 Hey guys, what have you been up to lately?
NICK: We have been super busy! I don't think we have had time to even stop and scratch ourselves. Last week we began live show rehearsals with our band which is really exciting for us – Its really only ever been Nathan and I so it was pretty amazing to hear the full EP with banging guitar and additional backing vocals. We have a string of gigs during and around Sydney MardiGras – Rdio Launch Party, Belvedere Vodka and DNA party, and then the Official Mardi Gras Laneway party… so its really all systems go – its exciting, we thrive on keeping ourselves busy.
Other than that, we are putting together some remixes for our next single as well as being in discussions with directors for our next music video. We are pretty pumped about everything in the pipeline, and now that our EP is out, we can free ourselves up to work on all of these additional elements that we really have wanted to put more time into. Things are good!
There was a long period of time between the demos hitting the web and the EP coming out, what took you so long?
NICK: Well, most people don't know it but Nathan and I both work full time jobs! Garçon Garcon started out as a fun side project, so when things started happening for us, it was a real surprise! We didn't really have the luxury of sitting in a studio every day being creative so it was really a long process for us. EP kind of became our weekend baby – so yeah, it definitely took a while, but then I guess thats also a good thing – we really had the luxury of making sure we were really happy with all aspects of the EP before its release. Hopefully we will be working with a label for our album and things will start happening a lot faster! Sorry we took so long – it pained us too!
NATHAN: Yeah, it was a long process. Much longer than either of us ever anticipated, sorry everyone!! Hahaha! We didn't want to cut any corners and make sure when EP was out we could sit back and say we were 100% happy with it. We felt pressure to hurry up, everyone was waiting!! But we wanted it to be perfect. If we had spent this long, there was no point in rushing a few weeks or a month just to get it out early. We're both really happy with it and very proud of EP so it was worth the wait I think
Who do you dedicate your debut to?
NICK: The unpopular kids at school – I think you're awesome.
NATHAN: I like that! I will back Nick up on that one
Whom do you want to work with? Who inspires you?
NICK: I would really like to work with FM Belfast or The Knife – both really talented acts marching to their own beat – A one of a kind originality. I guess I find inspiration in really good song writing, regardless of production…artists like Sigur Ros, The Drums, Fever Ray, Bjork – they are all inspirational and have certainly left some kind of mark in the way I approach my song writing.
NATHAN: There are so many people I would love to work with! I'd love to write and collaborate with Robyn, Santigold, Karen O.. The list could go on and on! I'm very inspired by artists like: Bjork, Yeah Yeah Yeahs, early U2, Interpol and thousands of others. This is always a hard question because the answer will change depending on the day, my mood.
Read the rest of the interview here from our fellow friends at Grateful Grapefruit